Do you remember when the long running Eddie Howe saga finally collapsed?
Do you remember when his name was then quickly replaced in the media by an "unknown" Australian coach, who at that time plying his trade in Japan.
Do you remember those feelings of utter despair at that time, way back in early June, as we stumbled from the failings of the 2020/21 season into a summer of turmoil?
Seems such a long time ago now doesn't it?
Celtic formally appointed Ange Postecoglou way back on the 10th of June this year and it's been a rollercoaster 6 months since then as the affable Australian has steered us through a quite incredible period of transformation during the first half of this season.
THE TASKS AT HAND
So what were the key tasks on Ange's to-do list upon taking the role? Take your pick!
Build A Brand New First Team Squad
Replace Key Figures (Scott Brown, Kris Ajer, Odsonne Edouard)
Appoint A New Club Captain
Qualify For European Competition
Manage A Hostile Mainstream Media
Make Us Competitive Again Following A Season of Failure
And these are just the headlines. The tasks that we as fans see.
Throw in to the mix the departure of CEO Dom McKay, the man who allegedly brought Ange to the club (this is very much the subject of ongoing debate) as well as the ongoing debacle of the appointment of Bernard Higgins (which thankfully now seems to have now been put to rest thanks to the commitment of some of our key fan groups) and Ange didn't have his troubles to seek.
Moving your family some 5,776 miles from Yokohama to Glasgow would also take it's toll on most of us!
EARLY DAYS
It took Ange 4 games to find his first win as Celtic manager (a 4-2 away win v Czech side FK Jablonec in a Europa League Qualifier) having started his opening 3 competitive games with a draw with FC Midtjylland, a defeat by the same opponents, followed by an opening day league defeat by Hearts at Tynecastle.
It was far from the results that we'd all been hoping for and many in the mainstream media relished the opportunity to take a dig at the new man.
Celtic's media did pull a stroke of genius around this time by releasing the "Ange Mic'd Up" video, which was met with universal acclaim by the Celtic fanbase.
At time of writing it's been viewed over 100,000 times and is probably most notable for the following quote:
"Just get it into your head. We never stop. We never stop! We'll stop at half time, and we'll stop at the end of the game when we celebrate, but during the game we don't stop.
If the opposition want to stop that's good for us, we'll fucking take advantage of it!"
The 3 and a half minute video gave us first real insight into Ange's coaching technique and it was a welcome sight for the fans who had become disillusioned by the apparent lack of this kind of leadership during the previous season.
FINDING OUR FEET (SEPTEMBER & OCTOBER)
In the 33 games that followed that early Hearts defeat we've seen the full spectrum of the much talked about "Angeball".
Spearheaded by summer signings Kyogo Furuhashi and Jota (currently on loan from Benfica) some of our attacking play has been simply sensational – both domestically and in Europe – and early home victories against the likes of Dundee (6-0), St Mirren (6-0) and AZ Alkmaar (2-0) give us a glimpse at what was possible.
We also experienced defeat against Rangers, Livingston & Bayer Leverkusen during those early months which certainly played a part in ensuring we didn't get carried away with ourselves.
Despite these defeats however, our defence must be credited for much of our early success and beyond, and in particular new signings Joe Hart and Cameron Carter-Vickers (On loan from Spurs) who have been pivotal in shoring up a porous defence.
(In our 20 league games so far we have conceded the least goals – 12 – of any team in the Premier League)
TANGIBLE SUCCESS (NOVEMBER & DECEMBER)
Despite injuries taking their toll – which continued to be the case right up until the Winter Break – it's these last 8 weeks or so that Celtic have really found consistency in their form.
In the 2 final months of the season we recorded an impressive 11 wins, 1 draw, and 1 defeat (Away to Bayer Leverkusen in the Europa League) over the course of 13 games.
Crucially during this period the club also lifted the first trophy of the Ange Postecoglou era in the shape of The Scottish League Cup.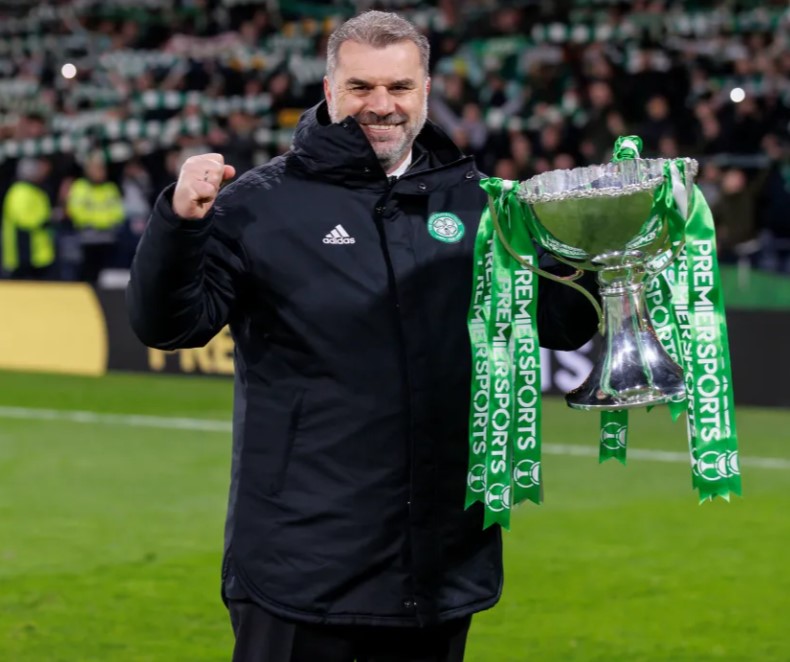 Kyogo was the star of the show during a highly charged afternoon at Hampden Park with 2 exceptional finishes to return the trophy to Celtic Park for the 20th time.
Though it's not the most important trophy available domestically it was vindication for Ange for his steadfast approach in sticking with his unique (and much maligned in certain quarters) approach to how football should be played.
It should also be highlighted that our away win over Ferencvaros in early November also secured European football (in the form of the newly created Europa Conference League) beyond the New year, with Danish Champions Bodo Glimt awaiting us in February.
Whilst we still find ourselves playing catch up domestically (we're currently 6 points off the pace), 11 wins and 2 draws in our last 13 league games have ensured that this side find themselves firmly in the midst of a title race, which is a far cry from what we offered last season.
THE PLAYERS
We'll cover the individuals in more detail in a separate blog but a huge part of Ange's early success has come down to the contribution from a mix of the new signings, existing players and some of our Academy players.
Kyogo, Jota and Hart are the standouts of the new Bhoys but special mention must go to new club captain Callum McGregor, the rejuvenated Anthony Ralston and the wizard that is Tom Rogic for what they've produced so far.
There are high hopes that they'll be joined by new signings early in the January window (with the Japanese trio of Daizen Maeda, Reo Hatate & Yosuke Ideguchi strongly linked) to bolster the squad and to provide much needed depth for the challenges that we'll face in the second half of the season.
THE REPORT CARD & EXPECTATIONS
Ultimately at a club like Celtic any new manager will be judged on whether he wins the league or not.
It could be argued that this isn't right or fair, but for as long as this writer has been following Celtic it's simply been the case here in Glasgow.
Given that we finished 25 points off the pace last time out would a genuine title race in itself – whether we win or not – be deemed a success?
Maybe. But it's not the way I work, and nor do I think it's how Ange Postecoglou operates.
Progress of any sort is of course a positive but I don't think the Australian will rest up until the Scottish Premier League trophy is once again draped in green & white ribbons.
And after that?
Well, as the man himself said, just get it into your head. We never stop.
We never stop!
Listen to The Celtic Exchange's Half Season Review episode now at the link below: